A look back on 2021 – Research and Development of the Aquatecture Pilot Installation in Cape Town South Africa
"You are not a drop in the ocean, you are the entire ocean in a drop," Rumi reminds us of our unrealised potential and lately this profoundness we all hold within us shows resonance in our joint engagements for water security. In the midst of ongoing urbanisation, changing rainfall patterns and recurring droughts, freshwater is diminishing globally. The UN estimates that by 2025, 1.8 billion people will be living in conditions threatened by water scarcity. This issue is expanded by exponential population growth and climate change.
After receiving applications from the University of Cape Town's (UCT) student society Engineers Without Borders (EWB-SA), Shaakira Jassat selected ten students from various disciplines to research and assess features of the Aquatecture pilot installation. With backgrounds in geomatics, humanities, mechanical, civil and chemical engineering the young researchers contributed a diversity of skills to the research stage of the pilot.
The Aquatecture Water Harvesting System consists of compact panels designed to collect rainwater. Installed in Cape Town's Central Business District, it found its place at a parking garage, opposite Oranjezicht Farmer's Market within the V&A Waterfront vicinity. At the site, the sleek panel is positioned at a threshold where the shoreline meets the land's rock contour. This serves as a reminder that water; in the form of oceanic scenery, long rainy winters, and coastal seashores, are central to the city's profile. In dense urban areas such as the centre of Cape Town, population numbers are set to increase in the future, a prediction responsible for the pressing demand for water harvesting and circularity.
The Aquatecture Cape Town project experienced some of its most rewarding moments last year, the news of a full water tank ready for its first harvest was met with great excitement. The students attached a hose pipe to the collection tank, sponsored by Jojo South Africa. Partnering with the nearby Oranjezicht Farmer's Market, the water is being used to irrigate the market's shrubbery, making the first realisations of the project's contribution to water security a success.
It is often the invisible forces such as wind and carbon that are responsible for the challenges in the research process. In an effort to reduce carbon emissions, people increasingly advocate for the calculation of embodied carbon. This is the total carbon emissions in the life cycle of a design, from raw materials to disposal. Embodied carbon is a research area shallowly navigated in South Africa, so during the research, limited and incomplete carbon data was available for the local context. 'Embodied Carbon Patroller' Shivani Manga took extensive measures to contact suppliers and transportation companies and ask questions about statistics on recycled material. Under the guidance of Adam Ozinsky, she used the data to calculate the embodied carbon of the Aquatecture pilot. Her conclusions will be used to determine what adjustments could be made for a reduction in emissions of the final product. Although it was a tricky task, this process left students with an awareness of under researched fields in the South African context. It brought a wealth of new questions on how such research can develop climate conscience design processes in the society around us.
On the ground level, the 'Rainfall Rambo's Team'  headed by Ameer Khan chairperson of EWB-SA, regularly visited the site, often with fingers tightly crossed for rainfall. The team ensured the accuracy of the tank's water level and captured rainfall footage, two crucial steps in the process of data collection. In the following stages, this data will be used to approximate the correlation between the installation's water collection capacity and natural rainfall patterns. However, the group explained that wind, a volatile element, makes data predictions a complex task. Despite these challenges, the Aquatecture project is only growing. This year a new set of engineering students will advance the research initiated last year.
Throughout the development of the project, Studio Sway enriched the research process with knowledge share workshops. The students benefitted from interactive lessons on embodied carbon, hosted by environmental designer and engineer, Adam Ozinsky. This has deepened their engagement with climate action, sustainability, and design. Not only was this training essential to augmenting the team's knowledge, but the students were also struck by the presentation of climate-conscious architectural structures around the world. Recognising the value of international exchange and collaboration, Studio Sway initiated a second knowledge share workshop covering topics such as climate resilience in cities and meteorology. This workshop was hosted by Rob Groenland a meteorologist from KNMI – Netherlands Meteorology Institute as well as architect Piotr Kalbarczyk from CITYFÖRSTER. In partnership with Eindhoven Technical University (TU/e) and the University of Cape Town chapter of EWB-SA, Studio Sway's collaborative projects grows networks between professionals and students, providing the space for conversations and actions necessary to farther ecologically sustainable ventures.
Water is the undercurrent that drives and connects each team member's dedication to work on the Aquatecture Water Harvesting System in Cape Town. The UCT students have personal stories that guide their curiosity and devotion to Aquatecture. One such memory is the devastating Cape Town drought. After three dry winters, it hit its peak in 2018. The stringent restrictions on water usage and the widely felt panic left a profound mark on the researchers who are local to the city. Other members have recounted first-hand experiences of limited freshwater access, having to travel distances to collect water in rural areas.
Lwazi Thobani, a third year civil engineering student, sees Aquatecture as part of a greater movement to extend residents' awareness on water services around the country. Although this project is situated in urban areas, he explains that his familiarity with barriers to water access in rural areas drives his motivation to contribute to water harvesting projects. "Prior to large-scale water tank distribution, for many years we had to walk long distances to fetch water," he says. While anxieties of limited access and water shortages pervade the conversations amongst team members, there is a sense of hopefulness that arises from this project's collaborative efforts to safeguard our water.
In urban areas, our water systems will host more than two thirds of the world's population by 2050. By empowering water with a platform to circulate at decentralised nodes within the city, this project harvests a chance for continuous renewal, planting prospects for a more secure environmental future.
Blog written by Sameeah Ahmed-Arai  – BA (Hons) English Studies at University of Cape Town & Marketing Director EWB-UCT
Edited by Studio Sway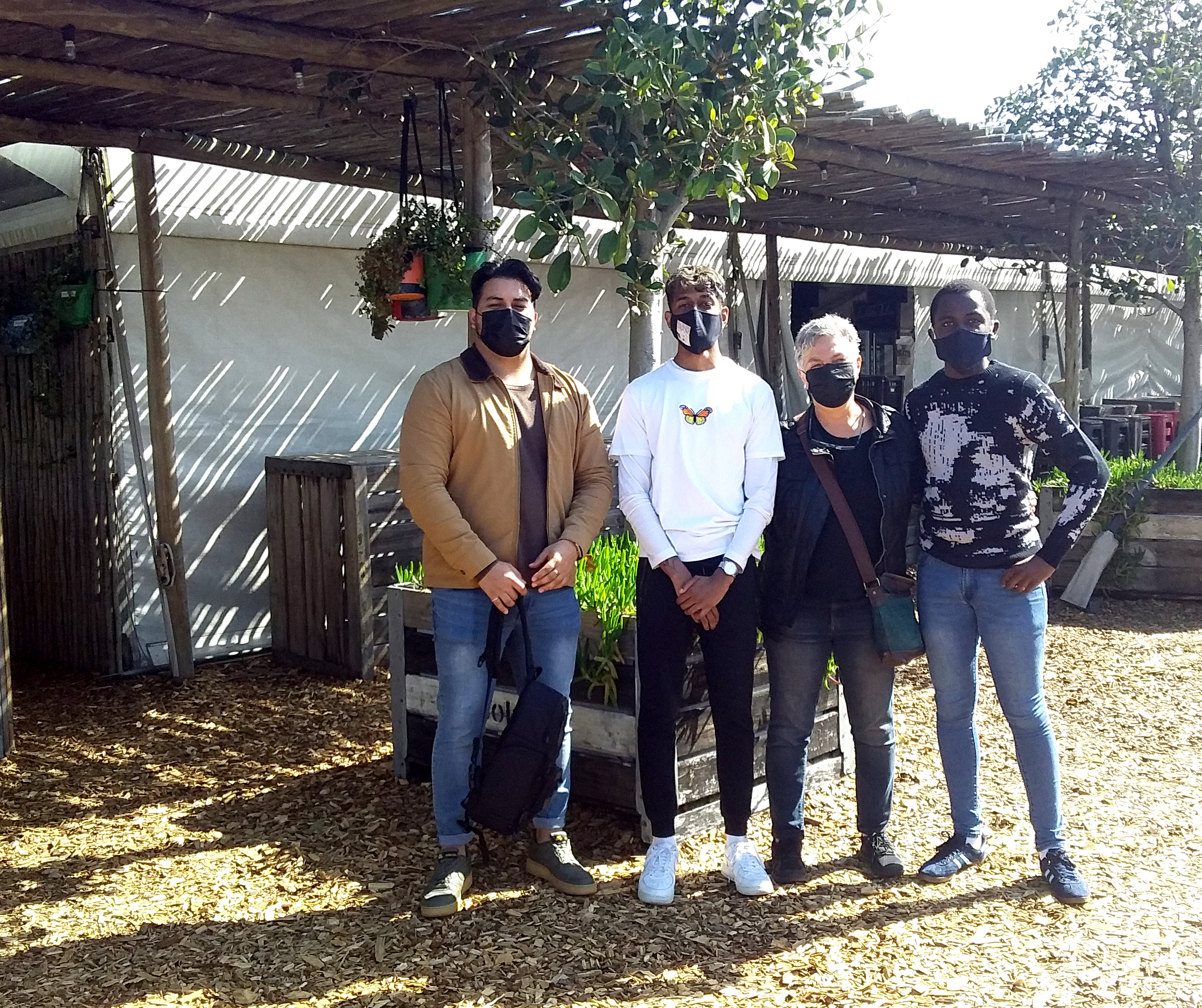 EWB Aquatecture research team alongside Oranjezicht Farmers Market owner Sheryl Ozinsky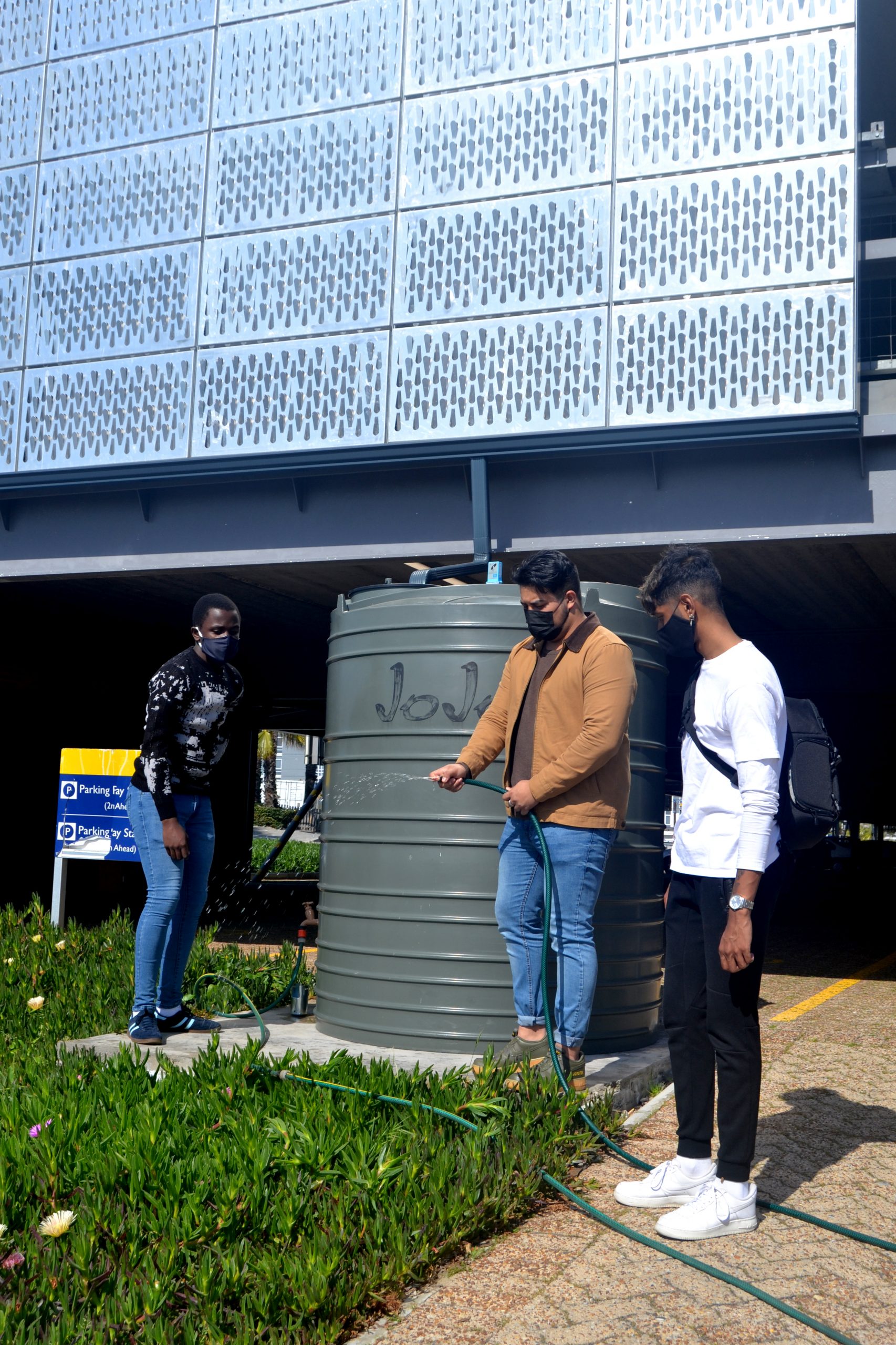 Watering the nearby green areas and with the harvested water from the Aquatecture Pilot Installation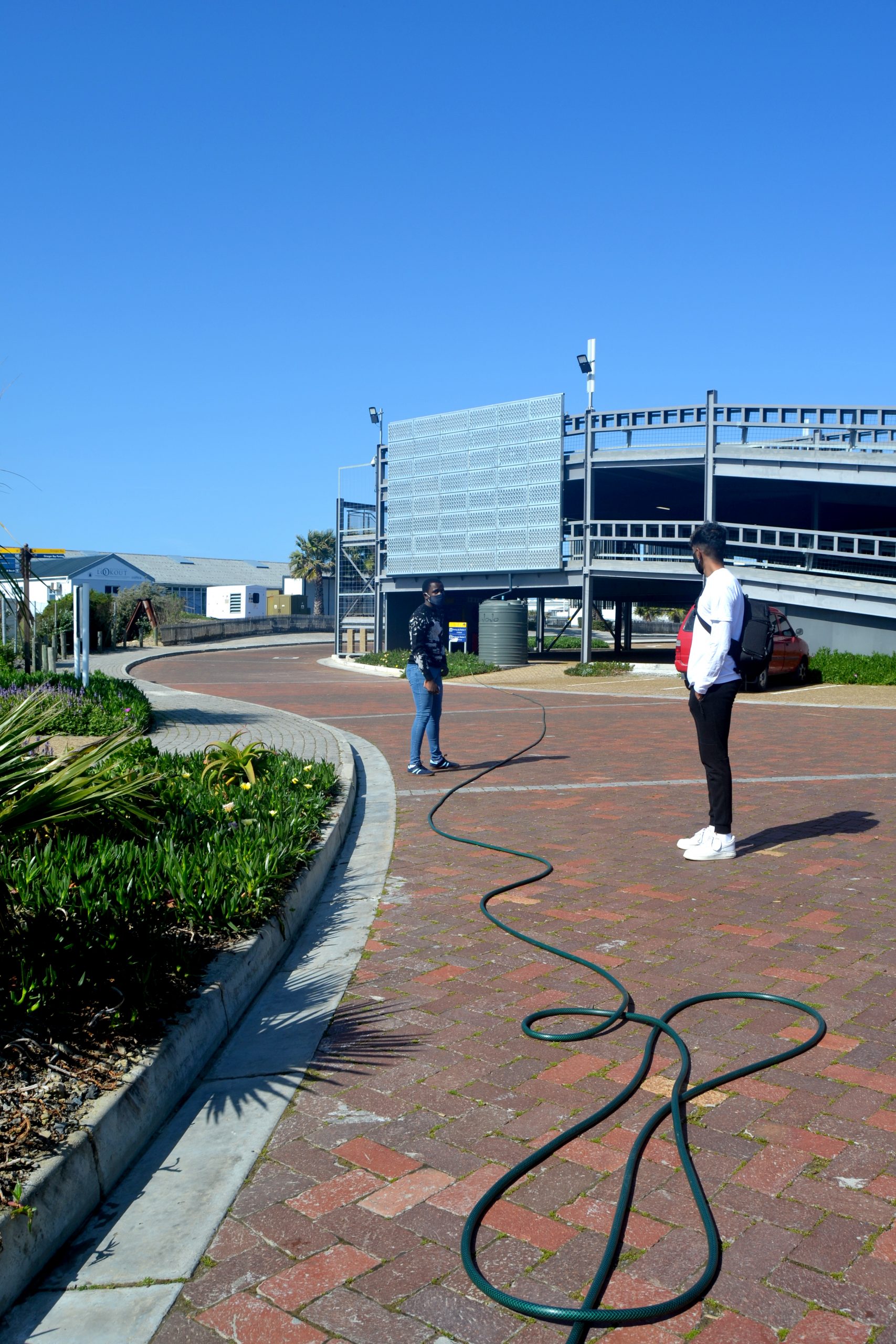 Drawing harvested water towards the gardens at Oranjezicht Market across the road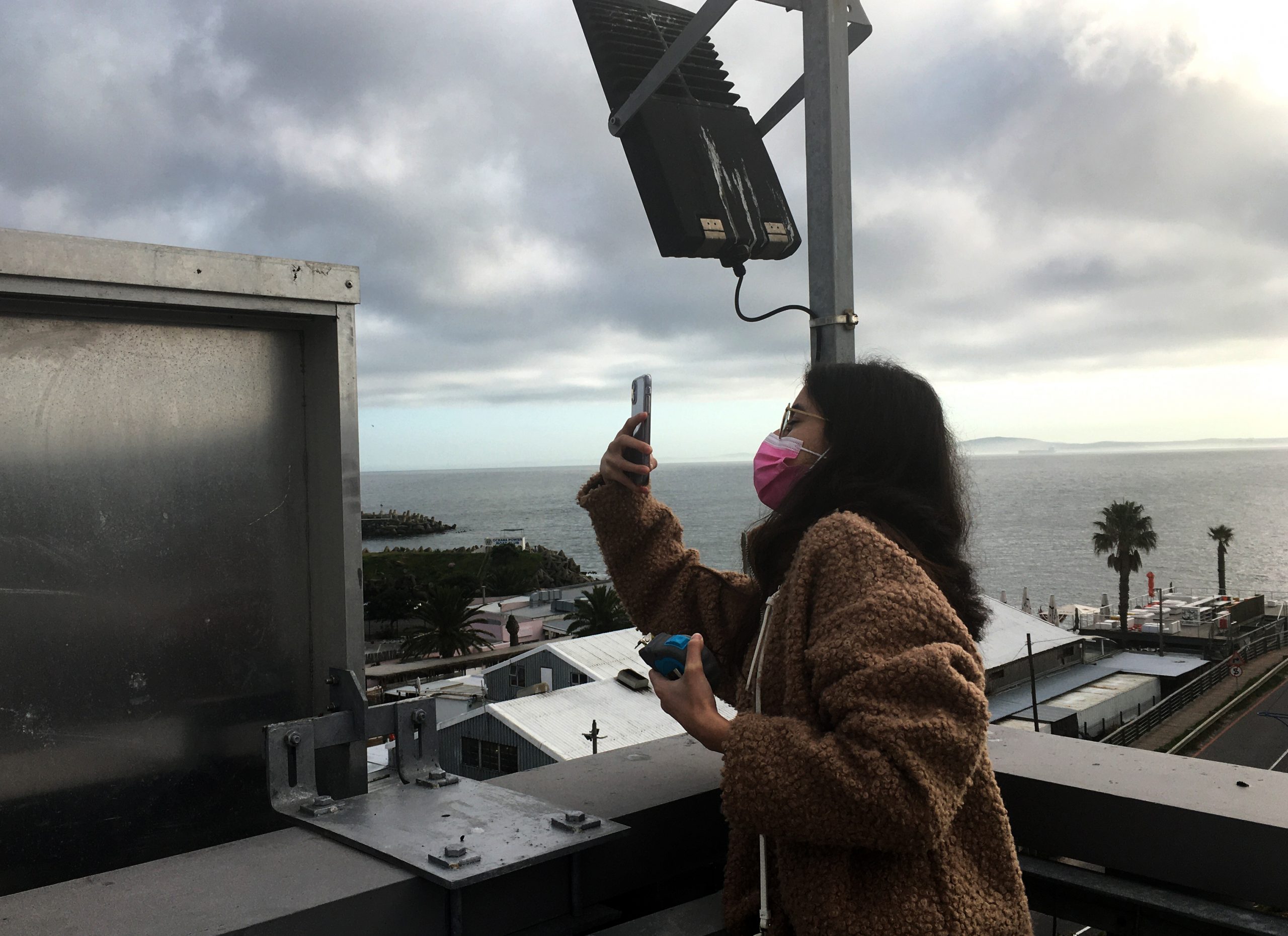 Embodied Carbon Patrol team at work on site documenting the details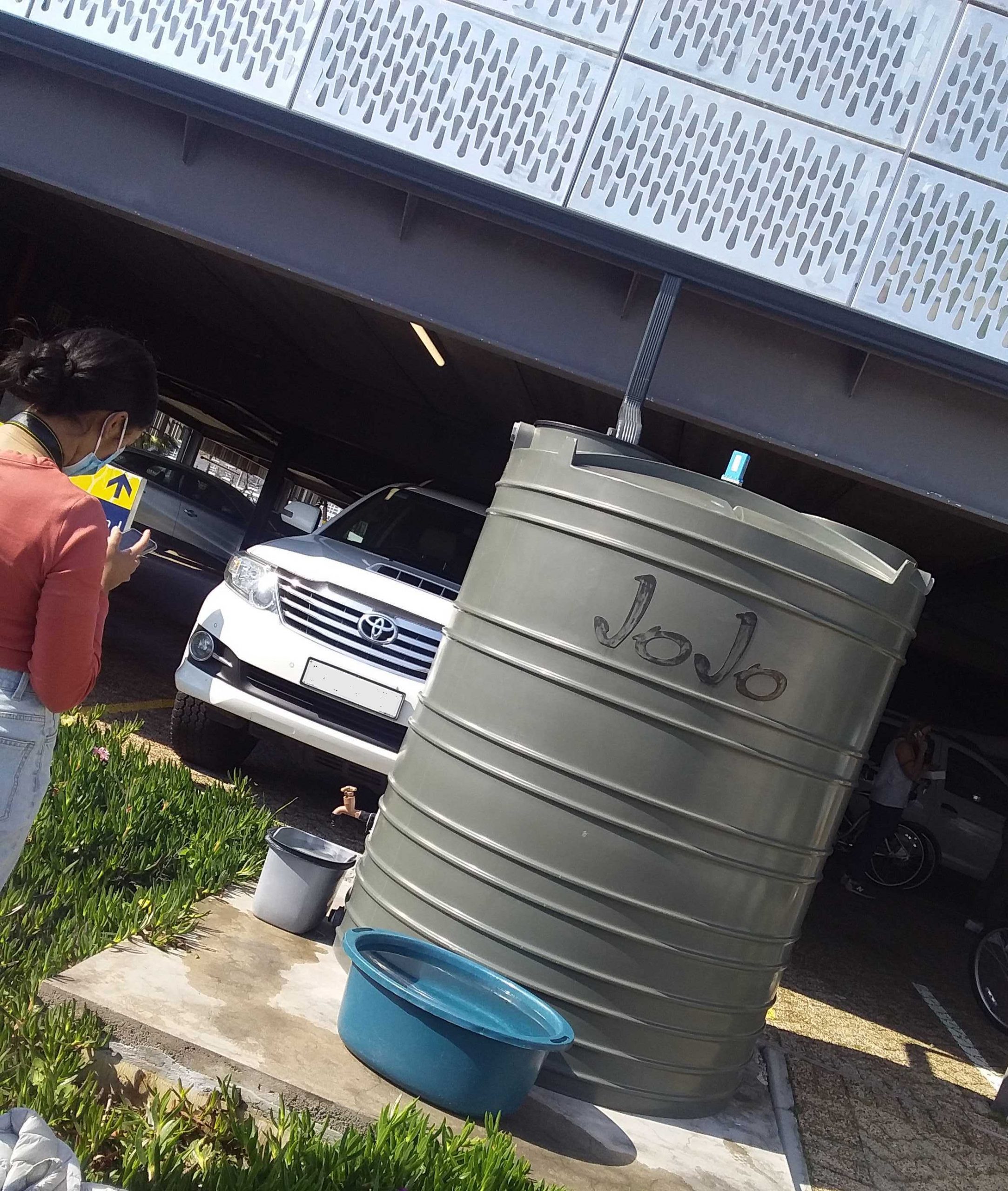 Rainfall Rambo's on site testing the accuracy of the tank sensor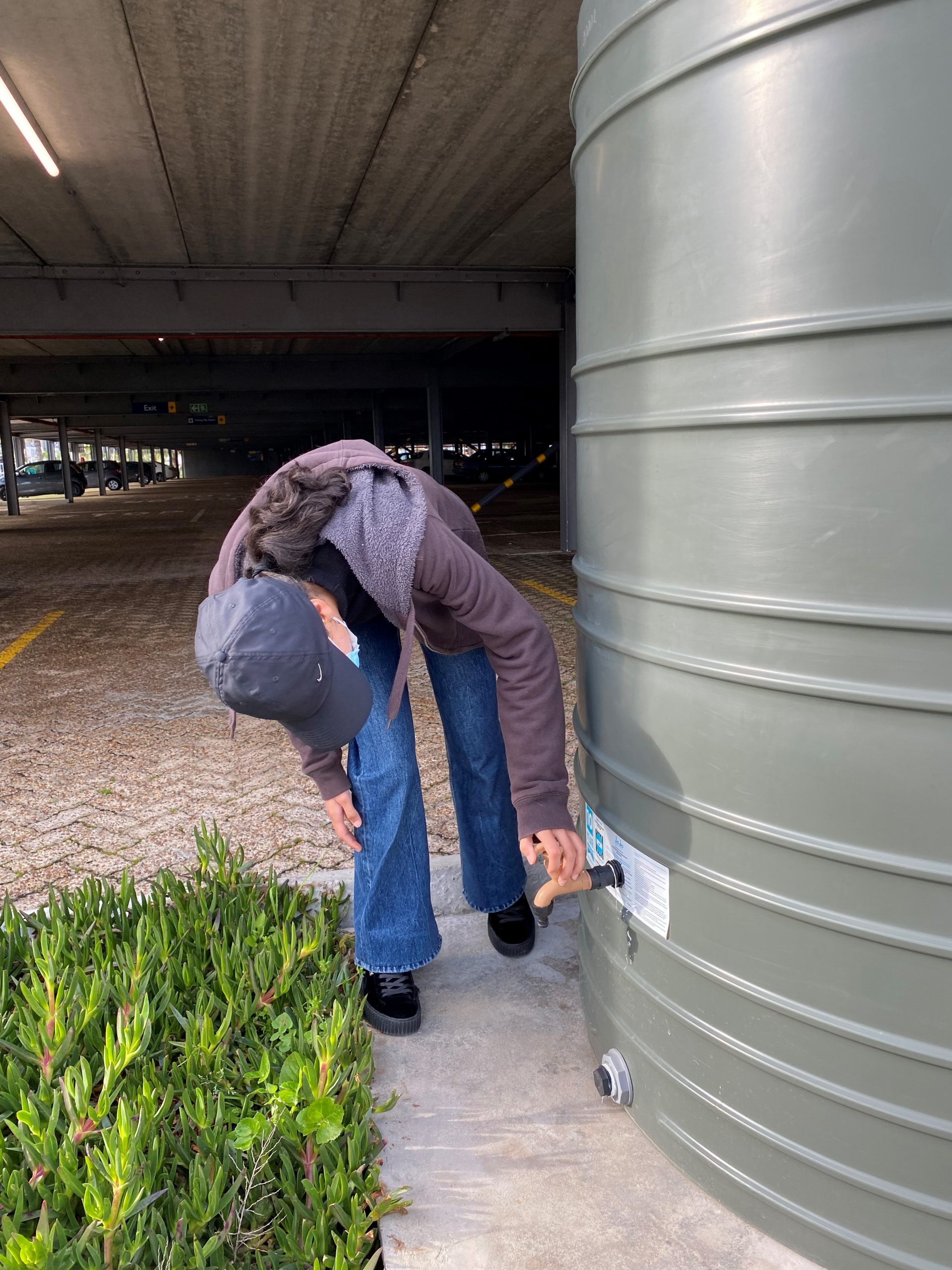 Student team inspecting the Aquatecture Installation at V&A Waterfront
top