Morphosis : reflection on design and craft dialogue
We find ourselves at a defining moment in history. The human spirit is put to test and we are in a period of transition. The pandemic and all its side effects leave us with our collective balance uprooted, searching for a new form of steadiness. We are forced to isolate, yet rely on each other to stay alive.
As part of a larger research on schertsglazen or trick glasses, Shaakira Jassat was commissioned by the Nationaal Glasmuseum Leerdam to design a contemporary schertsglas. This project fitted well within the methodology of the studio, i.e.: to sway between past, present and future. Without much literature available on the subject she worked closely with historical glass expert Kitty Lameris to understand the 16th/17th century schertsglazen. Why were they made? What was the social atmosphere surrounding them? etc. After learning more about these glasses from a few perspectives, she explored how our present moment can define modern versions of a trick glass.
In the anthropocene, human activity has been the dominant factor above all nature, climate and environment. However, over the past 2 years humans were placed at the mercy of the invisible world. This shows that we are just a fraction of the ecosystem around us and are in a chapter where we are reassessing what it means to be a part of the earth and how our actions have an effect on all counterparts within the ecosystem. In solitude, we are more aware of our individuality, and we try to find out what it means to be a collective again. What does it mean to live in symbiosis with the human and non-human world?
As part of the design process Jassat wrote and recorded a poem (audio recording and sound design by Studio Tracks, made possible by Glasmuseum)
Jassat works with the themes of connection and collaboration. Inspired by the painting Vrolijk Gezelschap in de Buitenlucht by Gesina ter Borch which shows a man courting a woman by tipping a drink with a glass connected from his mouth to hers, she designed a glass which cannot be used alone. Keeping in mind the safety distance that defines interaction in public spaces lately, the glass is 1.5m long. Two users have to use this glass, one controlling what and how much the other drinks. With this glass we can explore being together in a new way.
In the 16th century, the Horn (Hoorn Drinkuyt) was most likely used as a symbolic gesture, a show of support for the princes of Orange who revolted against the Spanish Habsburgs. Reflecting on these glasses being used as a gesture in favour of something significant during that period of reformation, the second set of schertsglazen acknowledge non-human life. Nature's micro scale, in this instance the body and behavior of caterpillars influence the form of the collection. These insects have individual segments making up its body. A caterpillar's inner gut propels its outer body forward. This can be seen as two individual parts working as a collective to achieve a symbiotic movement. Caterpillars can also stack themselves on top of each other in bigger groups known as rolling swarm. In this way, they move in perfect synchronicity and much faster. These glasses, become a testament to the vast secrets available to us as we are redefining our relationships individually, collectively and with our ecosystem. They serve as a symbol in support of the non-human world being an influential part of our collective, helping us redefine what an individual and collective can be.
A dialogue between design and craft
This project was Jassat's first in glass, she has experience working with ceramics. Even though there are similarities between the two materials, there are also big differences. The first major difference is the design process. With ceramics, things are calculated and accuracy matters. With glassblowing, the accuracy does not necessarily form part of the design phase. Guided by Marc Barreda, an internationally known glass blower who's fearless methods make way for great collaboration, Jassat drew hand sketches and made some quick models to communicate her ideas. She spent many days on the workshop floor at the Glasblazerij in Leerdam guiding Marc through her ideas, as he made the glasses. Marc provided guidance on the technical aspects and this dialogue was interesting because it allows time for understanding the possibilities and limitations of the material and the making process. Many try outs were made and the designs morphed along the way in a back and forth process of making and drawing, resizing and testing out the glasses.
"It was a great learning experience for me, normally when you design something you go to a producer with a technical drawing and you have to work out the measurements and details before hand. With this project I had a lot of freedom to develop the pieces along the way. At first it was frustrating and even a bit of a feeling of losing control, but once I let go of that and allowed space for the craft to take shape, it became one of the most enjoyable projects I did in a while!" Shaakira Jassat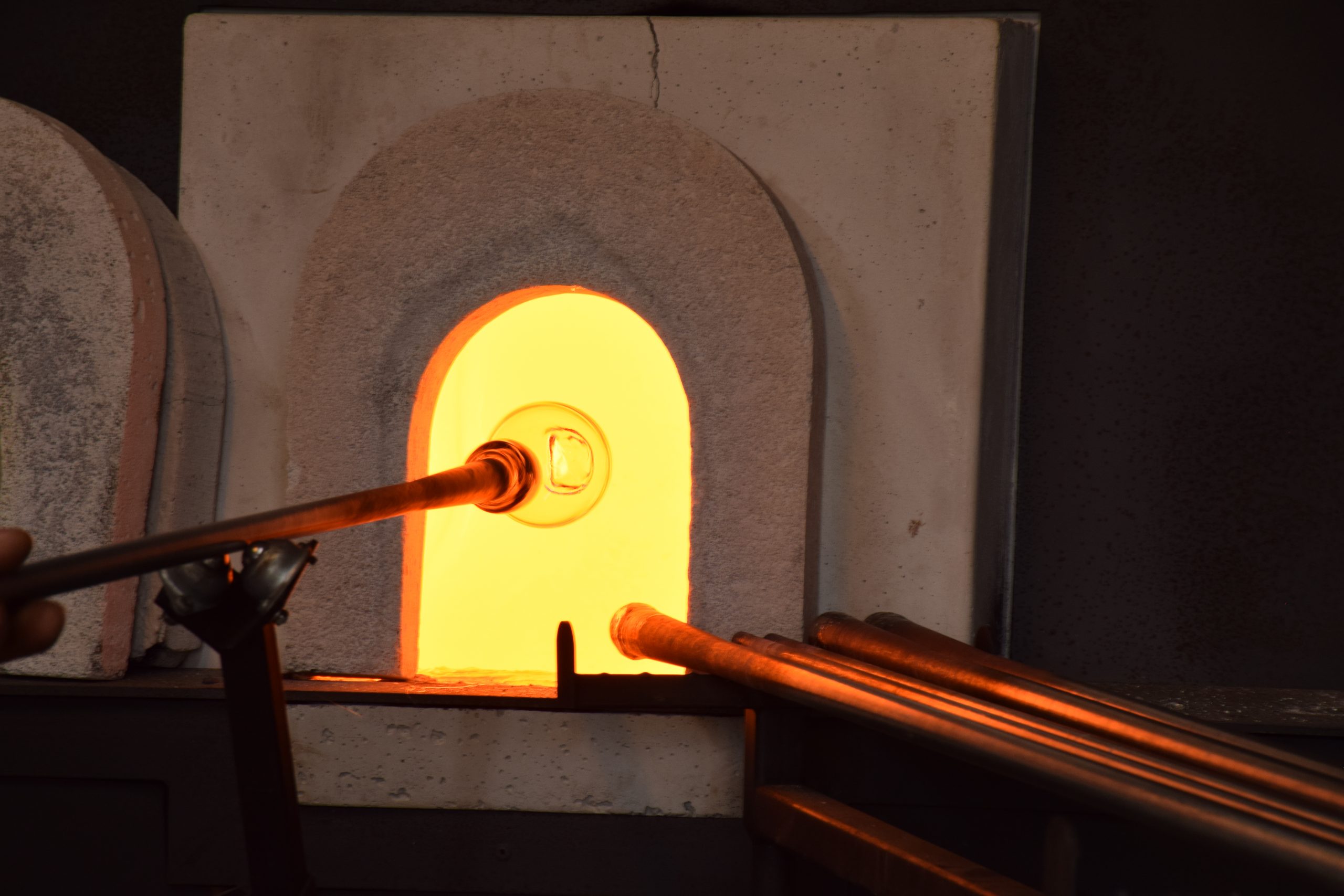 The glory hole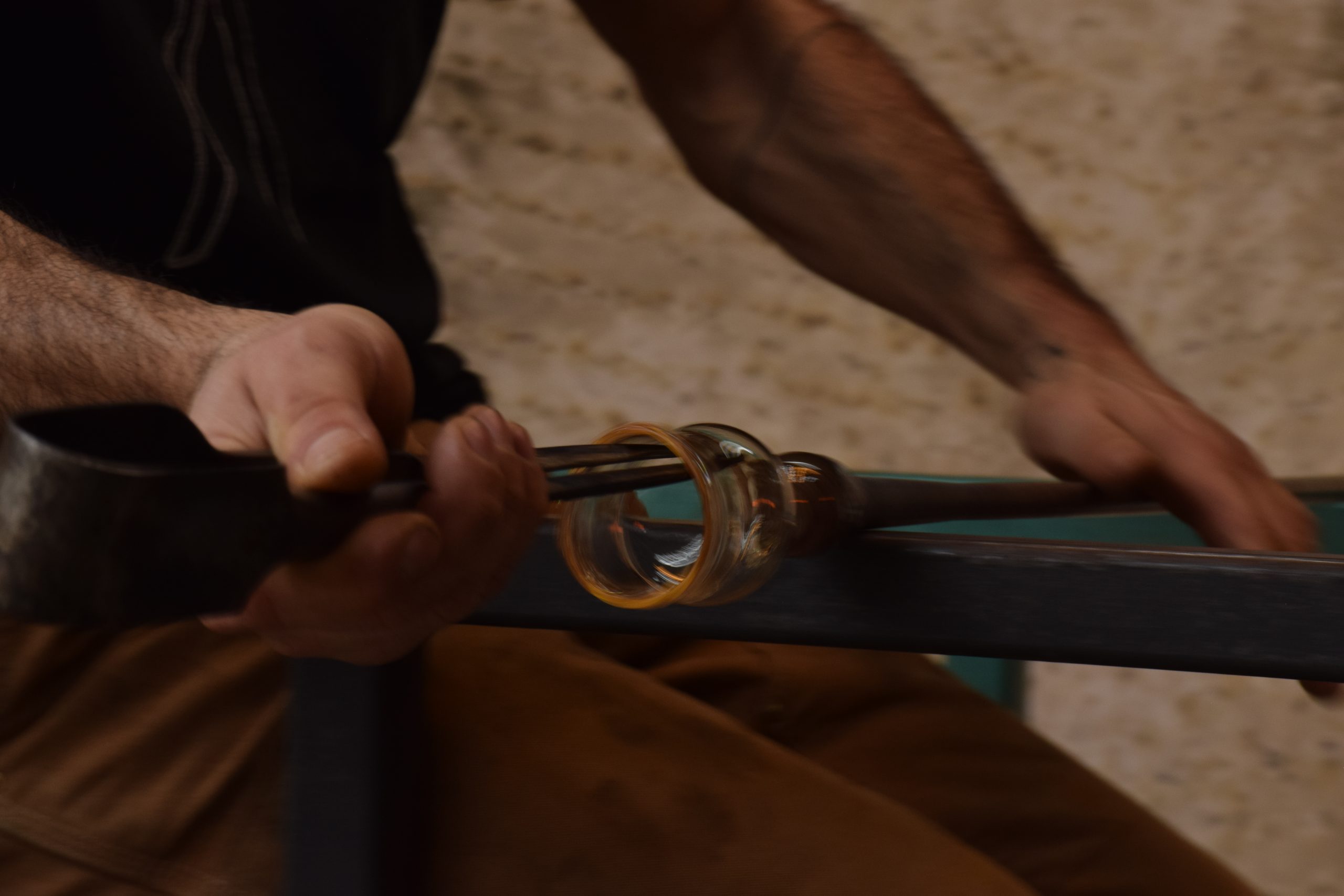 Marc opening up the shape using jacks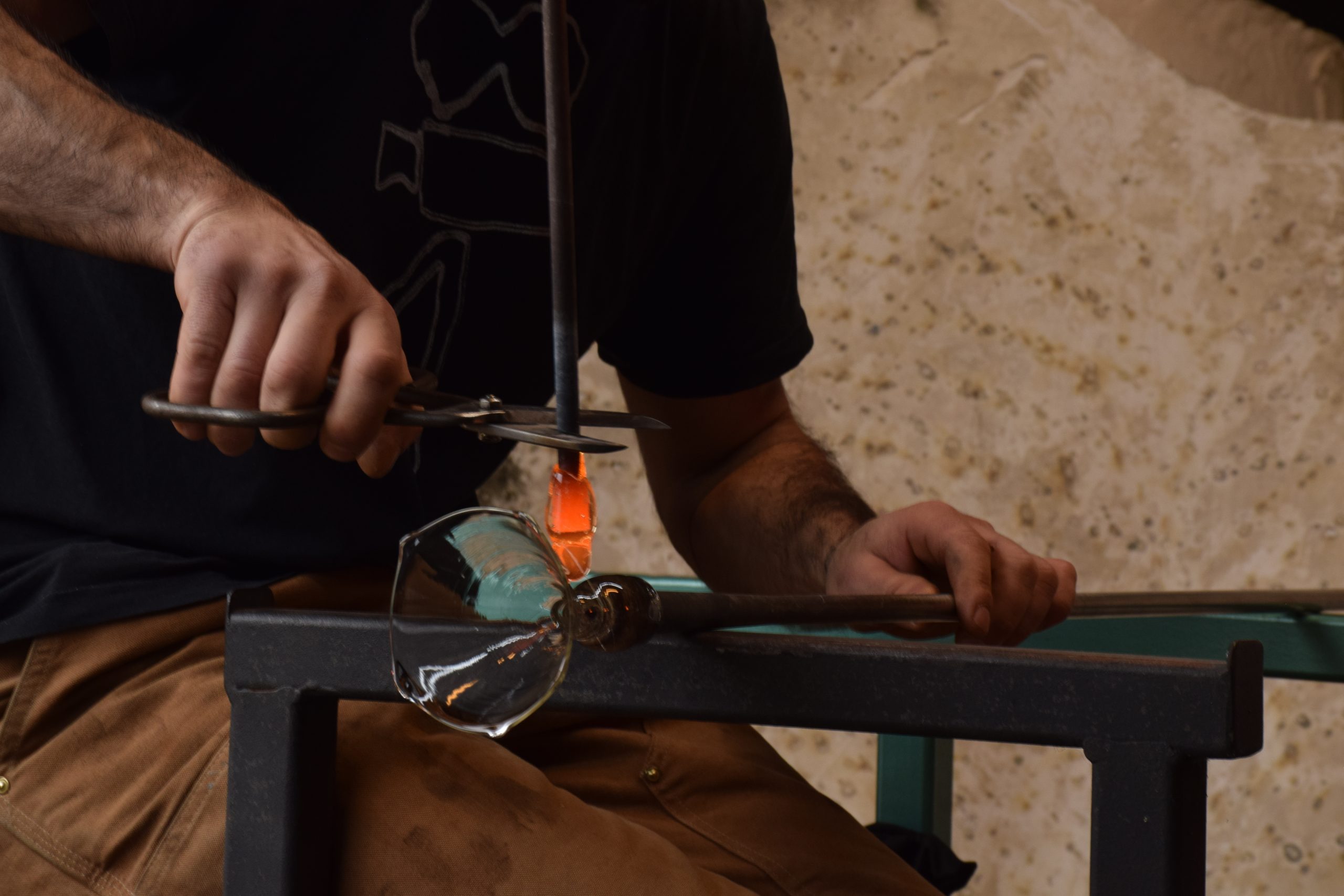 Adding additional details to the cup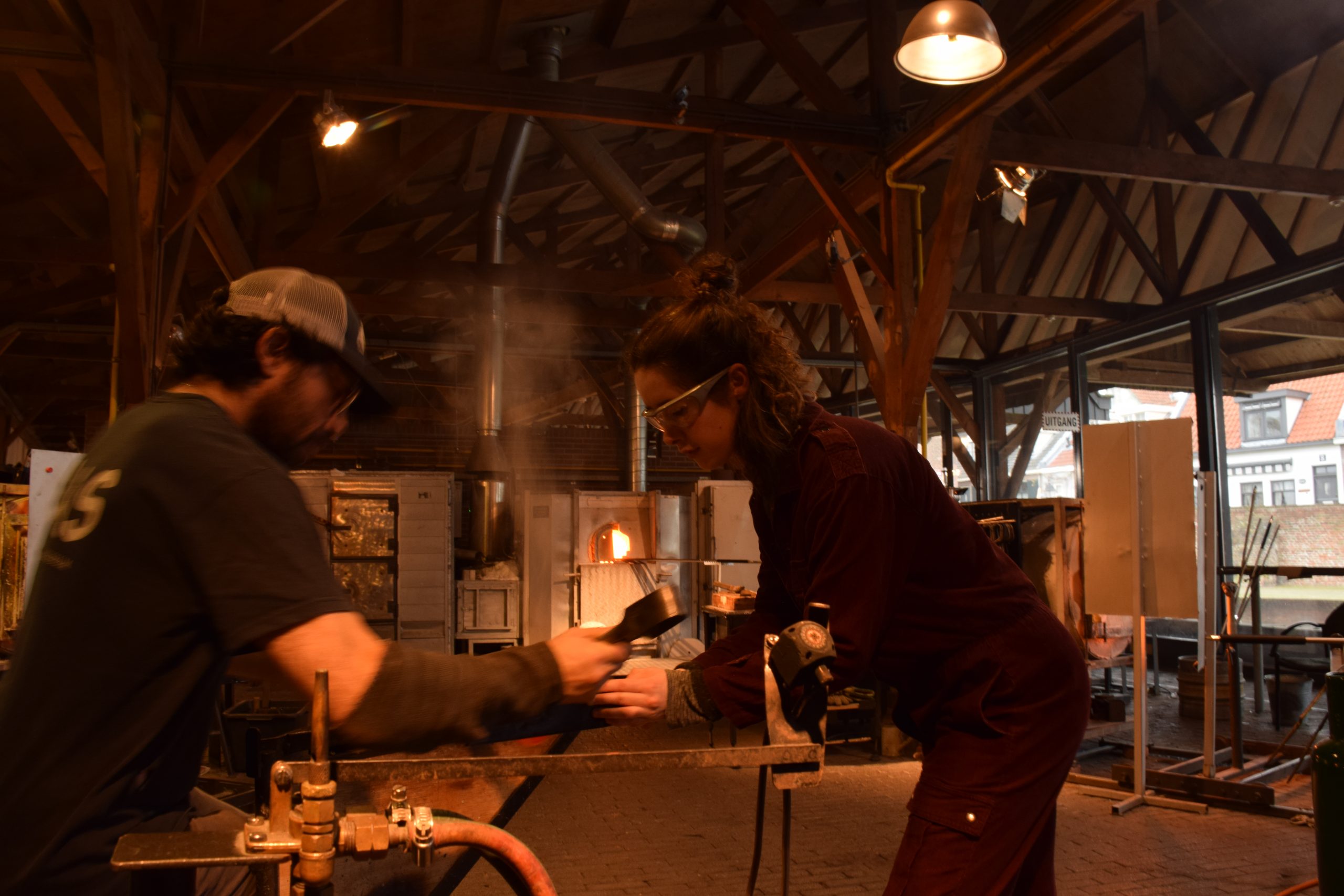 Josha Maud assists Marc with refining the piece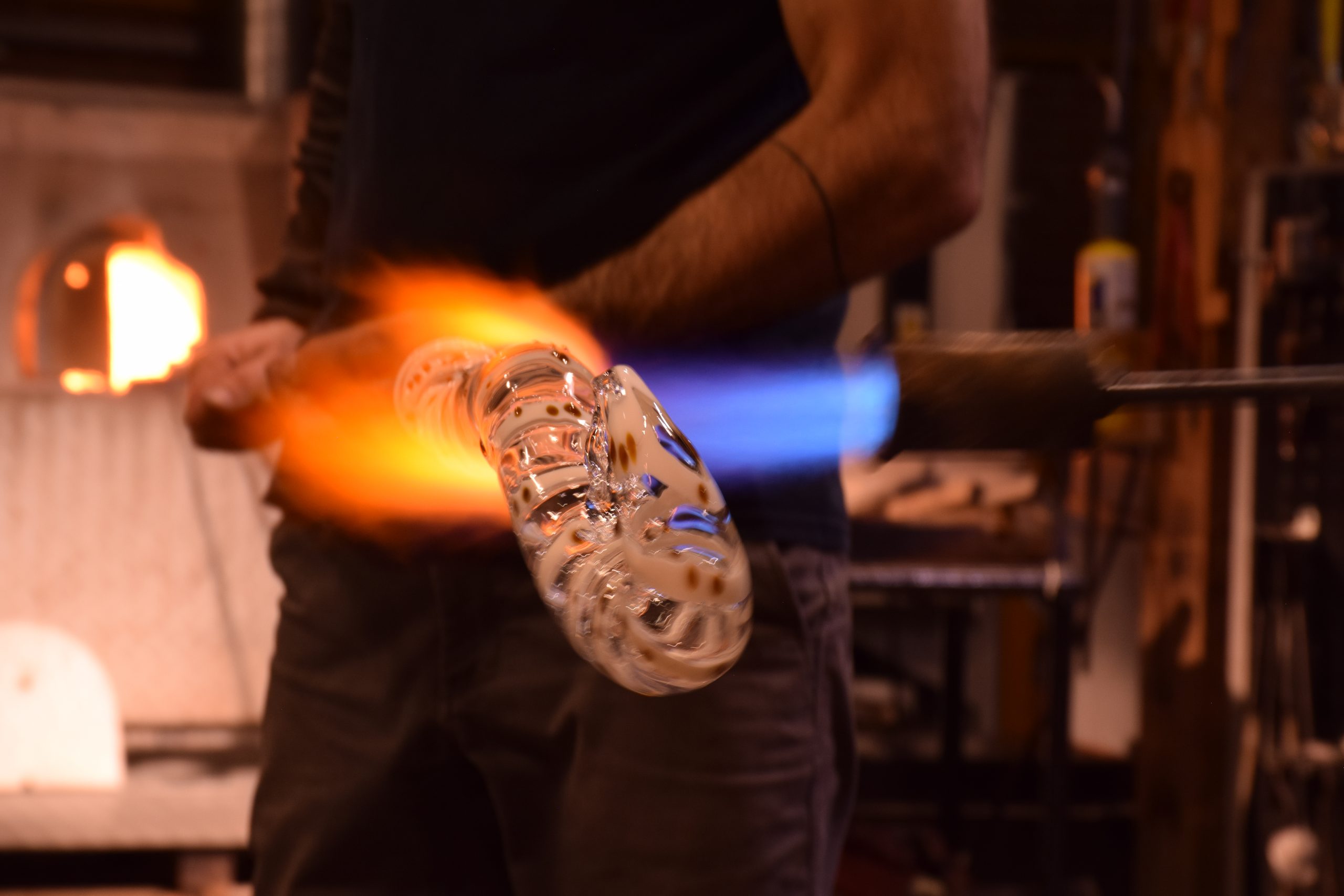 Torching the piece to refine details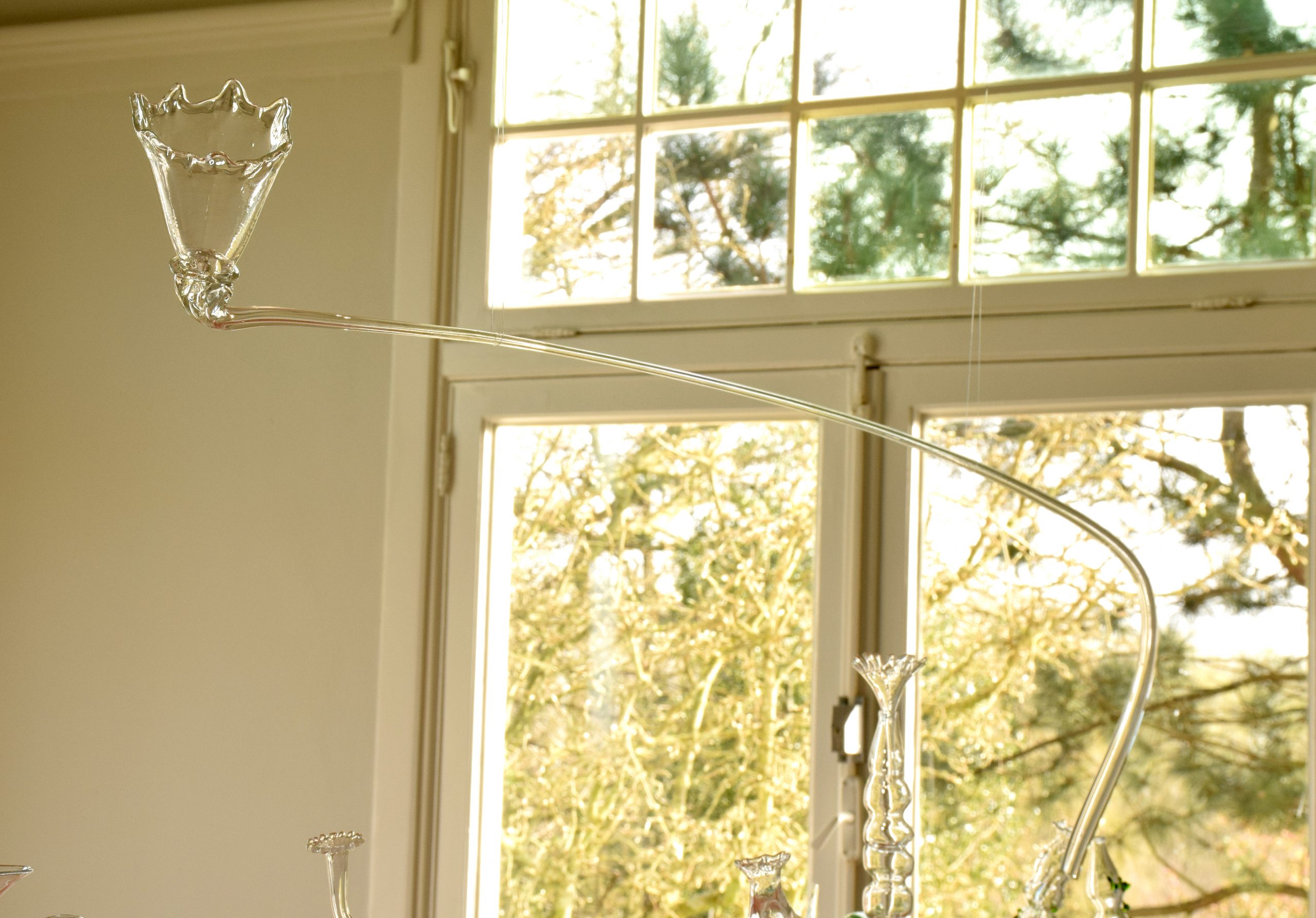 One and a Half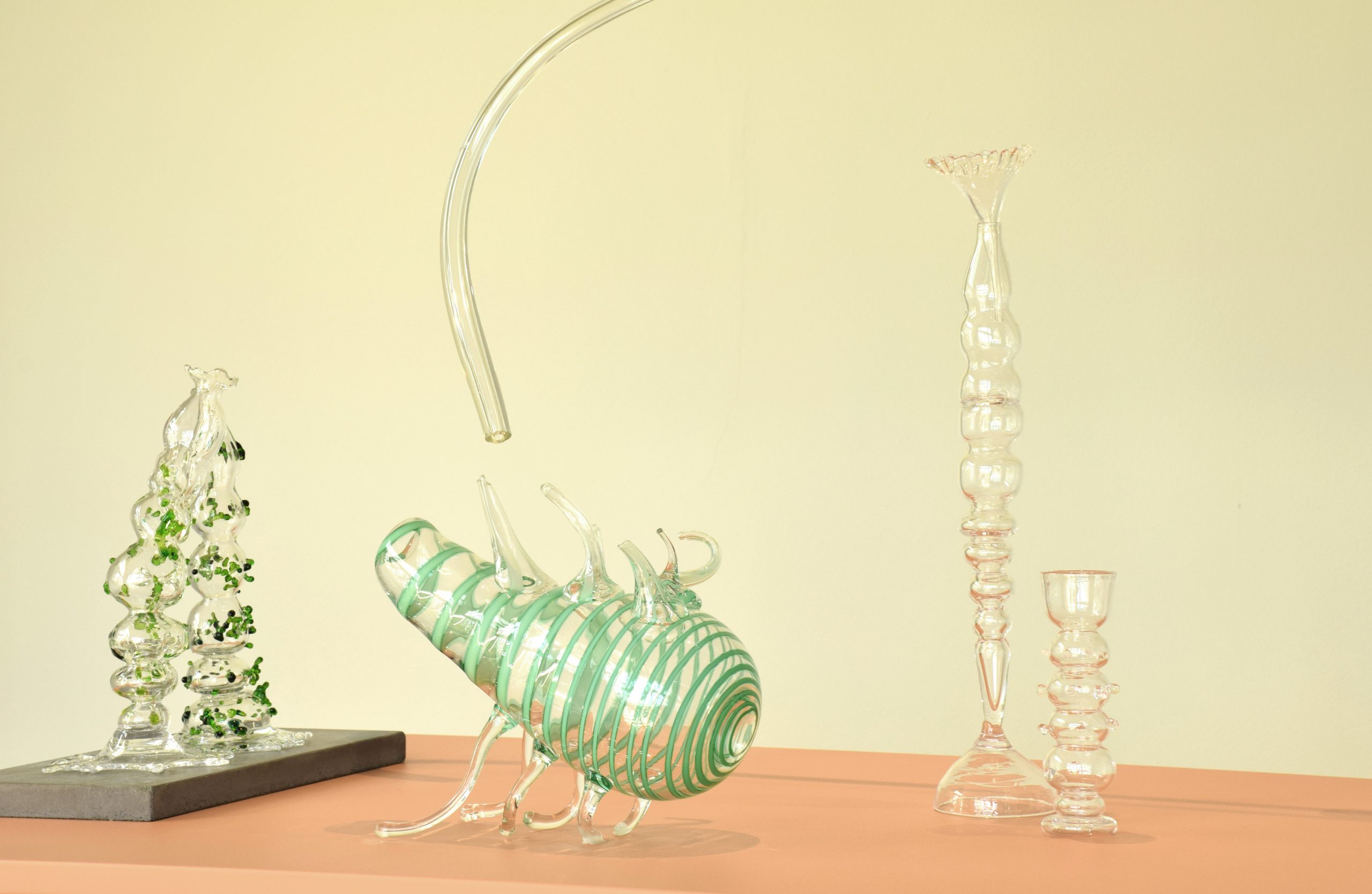 A glimpse of the exhibition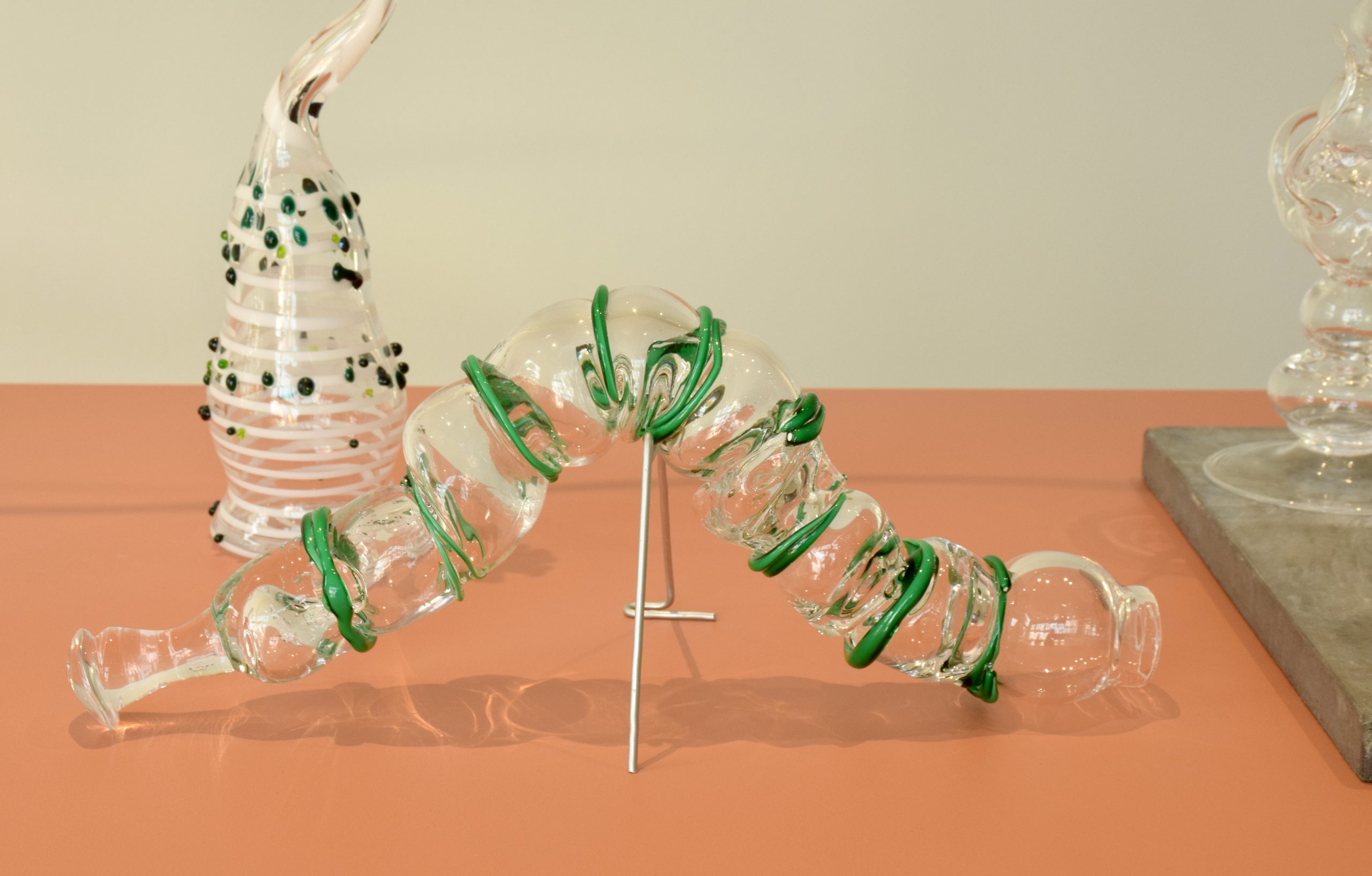 Locomotion Wave
top